Jacques Rouvier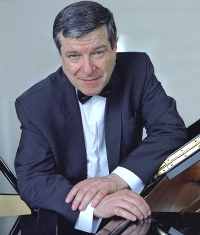 Born in Marseilles in 1947, Jacques Rouvier studied with Vlado Perlemuter, Jean Fassina und Jean Hubeau. He obtained first prizes in Piano and Chamber Music from the Paris National Music Conservatory in 1965 and 1967. A profound and proficient musician, he has won several international prizes: the Viotti prize in Vercelli, the Maria Canals prize in Barcelona, the Marguerite Long – Jacques Thibaud prize and the prize awarded by the Fondation de la Vocation (France).
In 1970 he founded a piano trio with Jean-Jacques Kantorow and Philippe Muller with whom he regularly performs. An eminent teacher, he was named Professor of Piano at the Paris National Music Conservatory in 1979 and has often been invited to do master-classes around the world, notably in Japan and South Korea but also in Montreal, Vancouver, Saint-Jean-de-Luz (the Maurice Ravel Academy), and the international Music Academies in Nice, Les Arcs and Courchevel. In addition to his teaching position in Paris, he has assumed a position as a professor at the Mozarteum in Salzburg.
His recordings have always been warmly received and have won prizes including the Grand Prix du Disque and the Grand Prix du Disque Francais. Jacques Rouvier's artistic career is the reflection of his rich personality: his musical instinct, his powerful and moving poetic imagination and his perfect knowledge of the repertory have been praised by critics.