Robert Levin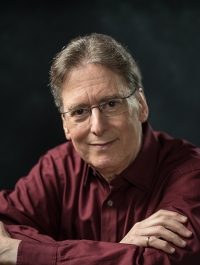 Robert D. Levin, born in 1947 is a pianist, conductor, composer and musicologist. Among others, he studied with Nadia Boulanger, Robert Casadesus and Clifford Curzon in Paris, New York and Boston. At the age of 21 he received a PhD from Harvard University on the unfinished works of Mozart.
As a renowned expert he has completed many unfinished works of Wolfgang Amadeus Mozart and also Johann Sebastian Bach. Of particular importance is his completion of Mozart's Requiem and the C-minor Mass. In 2005 his completion of the Mozart C-minor Mass, commissioned by Carnegie Hall, was premiered and has since been performed throughout the United States and Europe.
Levin has performed around the world on both modern and period instruments. He has performed as a soloist with well-known ensembles such as the Academy of Ancient Music, the English Baroque Soloists, the Handel & Haydn Society, the London Classical Players, the Orchestra of the Age of Enlightenment and the Orchestre Révolutionnaire et Romantique.
Renowned for his improvised cadenzas in Classical period repertoire, Robert Levin has made recordings of a wide range of repertoire for Deutsche Grammophon Archiv, Decca/ London, Deutsche Harmonia Mundi, ECM, Hänssler, New York Philomusica, Philips and SONY Classical. His recordings include Bach's complete keyboard concertos, the six English Suites and both books of the Well-Tempered Clavier.
A passionate advocate of new music, Robert Levin has commissioned and premiered a large number of works, including Joshua Fineberg's Veils (2001), John Harbison's Second Sonata (2003), Yehudi Wyner's piano concerto Chiavi in mano (Pulitzer Prize, 2006), Bernard Rands' Preludes (2007) and Thomas Oboe Lee's Piano Concerto (2007).
Robert Levin appears frequently with his wife, pianist Ya-Fei Chuang, in duo recitals and with orchestra, and with violist Kim Kashkashian.
Levin has been head of the Musical Theory Department at Curtis Institute of Music, Professor at New York State University, the Purchase College and the Hochschule für Musik Freiburg. In 2007 he succeeded Paul Wolfe as Artistic Director at the Sarasota Music Festival.
A member of the American Academy of Arts and Sciences and the Akademie für Mozartforschung, he is president of the International Johann Sebastian Bach Competition (Leipzig) and Dwight P. Robinson, Jr. Professor of the Humanities at Harvard University and guest professor at the Juilliard School of Music, New York.