Yefim Bronfman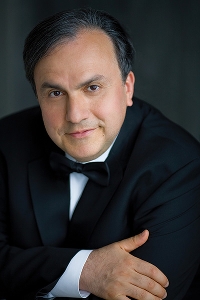 Yefim Bronfman is one of the most renowned pianists in the world. He became famous through his powerful and interpretative intensity when playing, as well as for his stupendous technique.
Born in Tashkent (Uzbekistan), Mr Bronfman emigrated to Israel with his family at the age of 14 and later obtained US citizenship. He made his first international stage appearance in 1975, while playing with the Montreal Symphony Orchestra, conducted by Zubin Mehta. 1989 saw his debut at Carnegie Hall in New York. Among Mr Bronfman's greatest achievements is the recording of Béla Bartók's three piano concertos with Esa-Pekka Salonen and the Los Angeles Philharmonic, which won the Grammy Award in 1997. In addition, his recording of Salonen's piano concerto was nominated for the Grammy in 2009.
Mr Bronfman is also a devoted chamber musician: In 1991, he gave his first public concerts in Russia after his emigration together with violinist Isaac Stern. He has also made recordings of Serge Prokofieff's sonatas or Johannes Brahms' works for piano and violin. One of his favorite chamber music partners is violinist Pinchas Zukerman.
Yefim Bronfman is a sought after guest performer in concert halls and with orchestras throughout Europe, America and Asia. He works regularly with conductors such as Daniel Barenboim, Mariss Jansons and Sir Simon Rattle.